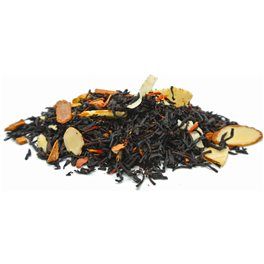 Toasted Almond Cookie
Description
Indulge your senses with this tantalizing blend of roasted almonds paired with cinnamon to create a smooth satisfying cup of tea. Enjoy with or without milk.
Ingredients
black tea, roasted almond, cinnamon, flavors, safflowers, coconut
Packaging
sample (0.4oz), 3oz, 6oz, and 16oz zip-lock foils; 4oz tin (packed by weight); and tea bags (25 count)
Steeping Suggestions
*1½ tsp. tea
*8 oz. boiling (212°) water
*steep for 3 minutes
Tea Latte Recipe (1 serving)
3 tsp. tea, 1 cup water, ½ cup steamed milk, ½ tsp. sugar or condensed milk. Steep tea in water and add to steamed milk.
Allergen Notice
Contains nuts.