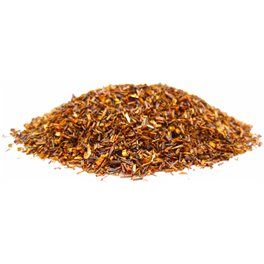 Rooibos, Organic
Description
Also known as red bush or red tea, South African rooibos is a delightful caffeine free alternative for tea drinkers. An excellent cup at bedtime, calming rooibos is known to help insomnia and headaches.
Ingredients
organic rooibos
Packaging
sample (0.4oz), 3oz, 6oz, and 16oz zip-lock foils; 4oz tin (packed by weight); and tea bags (25 count)
Steeping Suggestions
* 1 ½ tsp. of whole leaf tea
* 8 oz. of boiling (212°) water
* steep for 5 minutes
Iced Tea Recipe (8 servings)
¼ cup tea, 8 cups cold water, steep for 1-3 hours in fridge, sweeten to taste. Keep refrigerated and consume within 3 days.