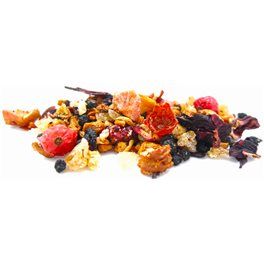 Pomegranate Pear Fruit Tea
Description
Sweet pear and apple are combined with tart pomegranate for a tasty and vibrant blend! Simply delightful and naturally caffeine free. Try iced for a refreshing treat.
Ingredients
apple, rosehips, hibiscus, elderberries, ginger, pomegranate, flavors, pear, currants
Packaging
sample (0.4oz), 3oz, 6oz, and 16oz zip-lock foils; 4oz tin (packed by weight); and tea bags (25 count)
Steeping Suggestions
*1½ tsp. tea
*8 oz. boiling (212°) water
*steep for 5 minutes
Iced Tea Recipe (8 servings)
¼ cup tea, 8 cups cold water, steep for 1-3 hours in fridge, sweeten to taste. Keep refrigerated and consume within 3 days.