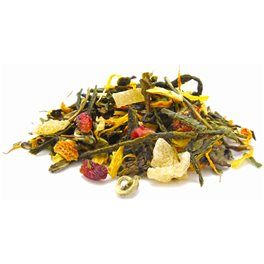 Papaya Ginger
Description
This tropical blend of white and green tea, pineapple, papaya and pomegranate evokes memories of tropical surf, sun and breezes. Each cupful is a healthy taste of sunshine. Enjoy warm or iced for a refreshing treat.
Ingredients
white tea, organic green tea, organic lemon myrtle, orange peel, jasmine green tea, pineapple, papaya, pomegranate, ginger, crystallized ginger, flavors, marigold, star anise
Packaging
sample (0.4oz), 3oz, 6oz, and 16oz zip-lock foils; 4oz tin (packed by weight); and tea bags (25 count)
Steeping Suggestions
*1½ tsp. tea
*8 oz. steaming (170°) water
*steep for 2 ½ minutes
Iced Tea Recipe (8 servings)
¼ cup tea, 8 cups cold water, steep for 30-40 minutes in fridge, sweeten to taste. Keep refrigerated and consume within 3 days.