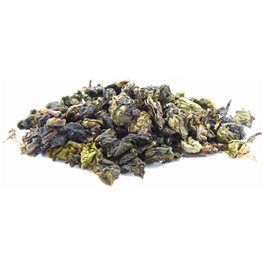 Oolong Wu Yi
Description
This tea from China's Fujian province is known for its light, sweet cup with a fragrant orchid finish. When steeped, the mature semi-fermented leaves expand to a full, lively cup with a little bit more body than a green tea but less body than a black tea. Rich in antioxidants, Wu Yi has been shown to promote healthy teeth, skin and bones, to lower cholesterol and to aid in digestion and weight loss.
Ingredients
oolong tea
Packaging
sample (0.4oz), 3oz, 6oz, and 16oz zip-lock foils; 4oz tin (packed by weight); and tea bags (25 count)
Steeping Suggestions
* 1 ½ tsp.. tea
* 8 oz. boiling (212°) water
* steep for 2 minutes, can be re-steeped
Iced Tea Recipe (8 servings)
¼ cup tea, 8 cups cold water, steep for 1-3 hours in fridge, sweeten to taste. Keep refrigerated and consume within 3 days.