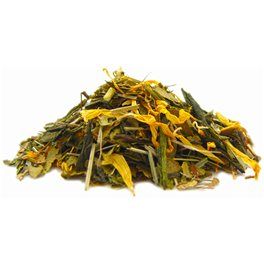 Lemondrop Sencha
Description
Organic steamed green tea is paired with organic lemon myrtle and lemongrass for a refreshing, lemony brew. Delightful hot or chill for a refreshing treat.
Ingredients
organic green tea, organic lemon myrtle, lemongrass, flavors, marigold
Packaging
sample (0.4oz), 3oz, 6oz, and 16oz zip-lock foils; 4oz tin (packed by weight); and tea bags (25 count)
Steeping Suggestions
*1½ tsp. tea
*steaming (180°) water
*steep for 2 ½ minutes
Iced Tea Recipe (8 servings)
¼ cup tea, 8 cups cold water, steep for 30-40 minutes in fridge, sweeten to taste. Keep refrigerated and consume within 3 days.