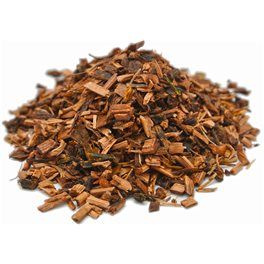 Honeybush, Organic
Description
This South African native's sweet-smelling flowers earn it the name honeybush. Similar to rooibos, caffeine-free honeybush is the perfect bedtime beverage choice.
Ingredients
organic honeybush
Packaging
sample (0.4oz), 3oz, 6oz, and 16oz zip-lock foils; 4oz tin (packed by weight); and tea bags (25 count)
Steeping Suggestions
*1½ tsp. tea
*8 oz. boiling (212°) water
*steep for 5 minutes
Iced Tea Recipe (8 servings)
¼ cup tea, 8 cups cold water, steep for 1-3 hours in fridge, sweeten to taste. Keep refrigerated and consume within 3 days.