Fused Olive Oil - Citrus Habanero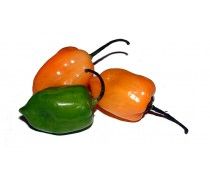 used Citrus Habanero Olive Oil
Citrus Habanero turns the heat up! The bright citrus flavor imbues the fire in this Habanero Olive Oil giving it another layer of awesomeness! Use it on grilled meats, drizzle on pizza or over roasted vegetables, garnish hearty stews/soups, anywhere you want to make a statement.
Pairs well with the Honey Vinegars or Lemon-Lime Balsamic
Cibaria Fused Olive Oils are made by combining our infused olive oils with our naturally flavored extra virgin olive oils, creating a unique flavor combination sure to be a natural taste pleaser.