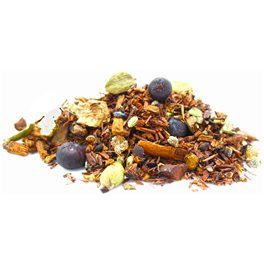 Energize
Description
This healthful blend of organic rooibos and honeybush combined with stimulating guarana and freshly cut spices is a great way to recharge and boost your energy. Enjoy warm or cold. Naturally caffeine free.
Ingredients
organic rooibos, organic honeybush, cinnamon, ginger, cardamom, juniper, flavors, guarana, star anise, fennel, cloves
Packaging
sample (0.4oz), 3oz, 6oz, and 16oz zip-lock foils; 4oz tin (packed by weight); and tea bags (25 count)
Steeping Suggestions
*1½ tsp. tea
*8 oz. boiling (212°) water
*steep for 5 minutes
Iced Tea Recipe (8 servings)
¼ cup tea, 8 cups cold water, steep for 1-3 hours in fridge, sweeten to taste. Keep refrigerated and consume within 3 days.