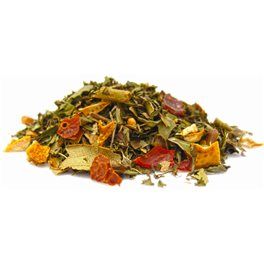 Cool Mint
Description
The refreshing, clean character of peppermint and spearmint is brightened with notes of lemon to produce a light, floral, minty tea with a delightful rosy hue. Delicious hot and sublime cold. Naturally caffeine free.
Ingredients
peppermint, rosehips, spearmint, lemon peel, lemon myrtle, flavors, stevia, lemon juice, citric acid, sea salt, malic acid.
Packaging
sample (0.4oz), 3oz, 6oz, and 16oz zip-lock foils; 4oz tin (packed by weight); and tea bags (25 count)
Steeping Suggestions
*1½ tsp. tea
*8 oz. boiling (212°) water
*steep for 5 minutes
Iced Tea Recipe (8 servings)
¼ cup tea, 8 cups cold water, steep for 1-3 hours in fridge, sweeten to taste. Keep refrigerated and consume within 3 days.