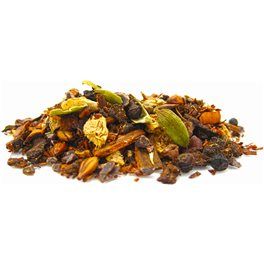 Chocolate Chai Rooibos
Description
A decadent treat of antioxidant-rich rooibos, real chocolate and balancing spices. Smooth and delicious, this naturally caffeine free blend is great on its own or try with steamed milk as a latte.
Ingredients
cocoa beans, organic rooibos, organic honeybush, chicory, ginger, barley, chocolate flakes, cinnamon, black pepper, flavors, cardamom
Steeping Suggestions
* 1 ½ tsp. of whole leaf tea
* 8 oz. of boiling (212°) water
* steep for 5 minutes
Tea Latte Recipe (1 serving)
3 tsp. tea, 1 cup water, ½ cup steamed milk, ½ tsp. sugar or condensed milk. Steep tea in water and add to steamed milk.
Allergen Notice
Contains barley and dairy.