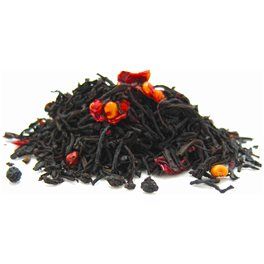 Blackcurrant Cassis
Description
A fruity Keemun, China black tea, with hints of dried plum is folded with sweet blackcurrants to create a pleasing blend that is reminiscent of the sweet, blackcurrant flavored liqueur crème de cassis. Serve hot or double the amount of tea and shake with ice for a summer refreshment.
Ingredients
black tea, hibiscus, elderberry, flavors, currant, schizandra berry
Steeping Suggestions
*1½ tsp tea
*8 oz. boiling (212°) water
*steep for 3 ½ - 4 minutes
Iced Tea Recipe (8 servings)
¼ cup tea, 8 cups cold water, steep for 1-3 hours in fridge, sweeten to taste. Keep refrigerated and consume within 3 days.