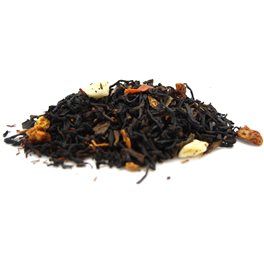 Berkshire Apple and Fig
Description
New England heirloom apples create the base for this delicious combination of tart apples and sweet, jammy figs. Hints of warming clove and star anise draw out the natural sweetness in this black tea blend. Wonderful iced or as a mildly spicy hot beverage. Try warm with a shot of Kentucky Bourbon to warm the soul on a cold winter night.
Ingredients
black tea, oolong tea, organic rooibos, apple pieces, flavors, fig, clove, star anise
Steeping Suggestions
*1½ tsp. tea
*8 oz. boiling (212°) water
*steep for 3 ½ - 4 minutes
Iced Tea Recipe (8 servings)
¼ cup tea, 8 cups cold water, steep for 1-3 hours in fridge, sweeten to taste. Keep refrigerated and consume within 3 days.